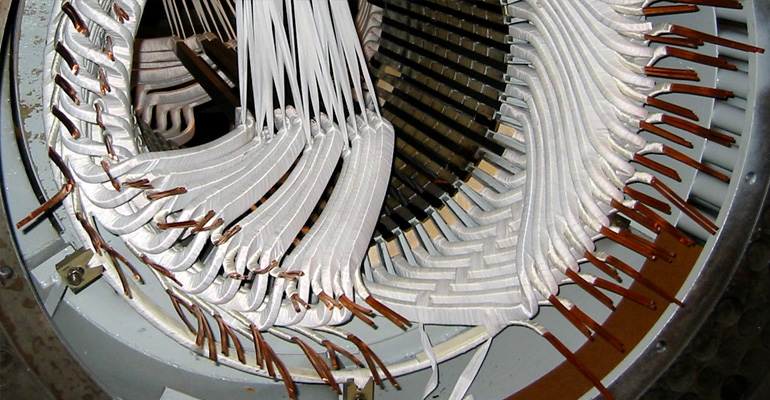 The Company offers complex services in the area of diagnostics and repairs of electric motors, transformers and electromagnets, including preventive operational diagnostics, repairs, balancing and load testing of equipment, disassembly/assembly, including setup, logistics.
We also do repairs of various electrical equipment and devices, and calibration of devices for measuring electrical quantities.
Complete diagnostic measurements of motors and transformers
Vibrodiagnostics of electrical faults and bearing faults
Thermodiagnostics of electrical equipment
Motor repairs, rewinding and balancing
Asynchronous motors of up to 600 kW, incl. runs in a test plant
DC motors of up to 5 MW, incl. runs in a test plant
HV motors of up to 10 MW / 6 kV
Transformer repairs and rewinding
LV transformers of up to 100 kVA
Dry HV transformers (not coated with epoxy) up to a weight of 20 t
Regeneration of transformer oils (filtration, vacuum degassing)
Medium repairs and overhauls of lifting electromagnets
Repairs of equipment and tools
Manufacture and remanufacture of rotor starting and slip resistors for crane motors
Repairs of welders, dynamos, starters, alternators, vibrators
Welding of shafts using the MIG, MAG methods
Calibration of devices for measuring electrical quantities
Our calibration laboratory deals with the calibration of electrical measuring devices; it is a member of the Association of High Voltage Test Laboratories and holds an accreditation certificate in accordance with ČSN EN ISO/IEC 17025:2005.
The Center holds accreditation for DC voltage, AC voltage, DC current, AC current, DC resistance and AC resistance.
According to the customer's requirements, we adjust the scales or calibrate electrical measuring devices in the laboratory.